Welcome to the official website of composer Erik Morales!
• NEW RELEASE! June 10, 2019. "CELESTIAL DANCE" for 5 B-flat Trumpets is a short fanfare (2'40") commissioned by Bach Artists Japan, Takumi Trumpet Ensemble. CLICK HERE FOR PRODUCT PAGE!
• Blackbinder implementation begins! Blackbinder versions of Concerto, Concerto for Two Trumpets and Passion Dance are now included with your hard-copy purchases of those pieces. Blackbinder is the most advanced automatic-scrolling sheet music app on the planet. Download it for free at the Apple App Store today and try it out.
• Congratulations to the Greater Dallas Youth Trumpet Ensemble for winning the inaugural 2019 NTC Pre-College Trumpet Ensemble Division with a great performance of "Cityscapes". Check it out on YouTube: https://youtu.be/oJCnZB0crpo
• Just wanted to let you all know that I'm currently working on a bunch of new pieces! I just completed a new trumpet quintet for "Takumi" trumpet ensemble from Japan entitled "Celestial Dance". That piece will be premiered and released in May 2019. I've also composed a 14 minute work for Stuttgart City Brass entitled "Ancient City" which will be released in January 2020. And, as usual, FJH Publishing will be releasing a new concert band work as well. Stay tuned for more updates coming…
• The trumpet ensemble from the University of Music Würzburg (Germany) has recorded "Infinite Ascent". Check it out on YouTube: https://youtu.be/S22ipwqYr8M
Passion Dance
00020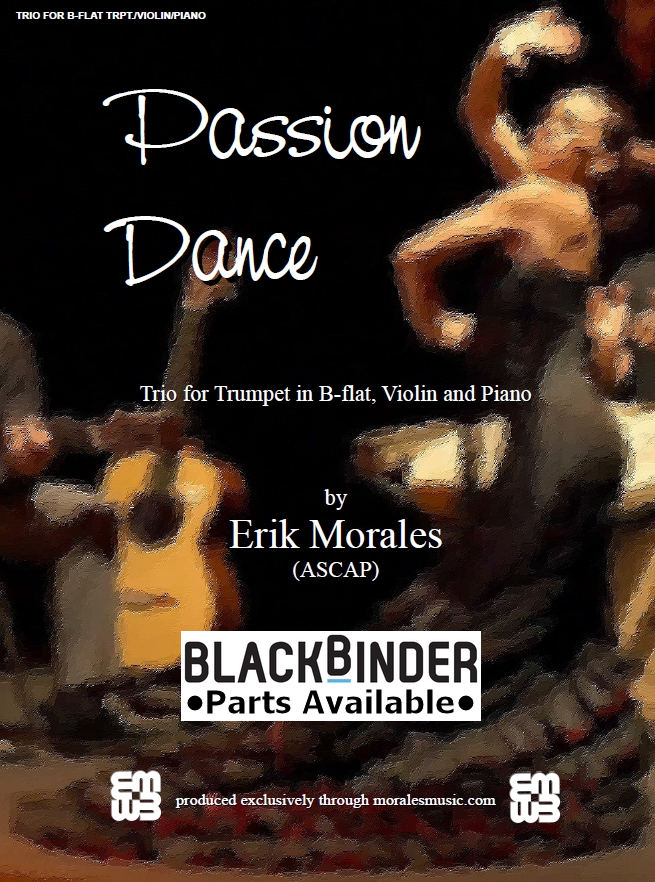 VIEW SAMPLE SCORE (sample score will open in new browser tab)
You will also receive a Blackbinder version of the Solo Trumpet Part with the purchase of a hard copy. Blackbinder is the most advanced sheet music reading app for the iPad. Download it for free in the Apple App Store and experience what it's like to not turn pages anymore!

This music was commissioned by the Aries Trio (Richard Stoelzel, trumpet / Rebecca Wilt, Piano / MingHuan Xu, Violin) for premier performance at the 2010 International Trumpet Guild Conference, Harrisburg, Pennsylvania, USA. The piece is based around the style of a modern tango. I drew much inspiration from listening to the excellent compositions of Astor Piazzolla, perhaps one of the greatest tango composers and performers of our time. The form has an interesting 8-bar/12-bar form in the beginning with trumpet. Afterwards, the violin presents a slight variation on the theme. Common to many modern tangos is a contrasting middle section. Here the piano plays a rubato solo in the very high register which further gives the piece a warm, introspective quality. Then all the instruments join in on a variation of the melody, this time with a classic tango rhythmic ostinato. The piece continues to build with intensity and speed to the end.
ISMN # 979-0-800118-19-7

level: Med. Difficult
duration: 4 min. 35 secs.
Options:
Complete Set (0) Piano Score Only (-4) Trumpet Part Only (-10.45) Violin Part Only (-10.45) Library Bound Version (6) Blackbinder Trumpet and Violin Parts Only (-6.95)
Newest works: