Welcome to the official website of composer Erik Morales!
• NEW RELEASE! June 10, 2019. "CELESTIAL DANCE" for 5 B-flat Trumpets is a short fanfare (2'40") commissioned by Bach Artists Japan, Takumi Trumpet Ensemble. CLICK HERE FOR PRODUCT PAGE!
• Blackbinder implementation begins! Blackbinder versions of Concerto, Concerto for Two Trumpets and Passion Dance are now included with your hard-copy purchases of those pieces. Blackbinder is the most advanced automatic-scrolling sheet music app on the planet. Download it for free at the Apple App Store today and try it out.
• Congratulations to the Greater Dallas Youth Trumpet Ensemble for winning the inaugural 2019 NTC Pre-College Trumpet Ensemble Division with a great performance of "Cityscapes". Check it out on YouTube: https://youtu.be/oJCnZB0crpo
• Just wanted to let you all know that I'm currently working on a bunch of new pieces! I just completed a new trumpet quintet for "Takumi" trumpet ensemble from Japan entitled "Celestial Dance". That piece will be premiered and released in May 2019. I've also composed a 14 minute work for Stuttgart City Brass entitled "Ancient City" which will be released in January 2020. And, as usual, FJH Publishing will be releasing a new concert band work as well. Stay tuned for more updates coming…
• The trumpet ensemble from the University of Music Würzburg (Germany) has recorded "Infinite Ascent". Check it out on YouTube: https://youtu.be/S22ipwqYr8M
Path of Discovery
00021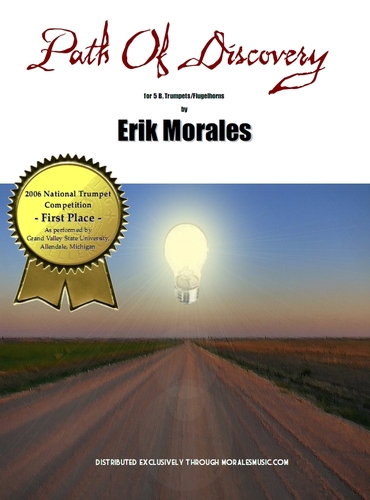 VIEW SAMPLE SCORE (sample score will open in new browser tab)
Important discoveries throughout our world's history have had a major effect on our everyday lives. This
work attempts to sonically represent the process of invention and discovery from an idea's conception to its
realization. The work is scored for 5 Bb Trumpets which double on Flugelhorns in the middle of the piece. The Grand Valley State University Trumpet Ensemble premiered this piece at the 2006 National Trumpet Competition to a FIRST PLACE finish.




ISMN # 979-0-800118-21-0
Grade level - Difficult
Duration - ~7 min. - (single movement work)

Options:
Complete Set (0) Score Only (-11) 1st Trumpet Part Only (-15.95) 2nd Trumpet Part Only (-15.95) 3rd Trumpet Part Only (-15.95) 4th Trumpet Part Only (-15.95) 5th Trumpet Part Only (-15.95) Library Bound Version (6)
Newest works: