Welcome to the official website of composer Erik Morales!
• NEW RELEASE! January 17, 2020, "THROUGH SPACE AND TIME" for 4 B-flat Trumpets and 4 Flugelhorns (~5 minutes) commissioned by the students of trumpet master Hiroaki Hayasaka from Kyoto, Japan. CLICK HERE FOR PRODUCT PAGE!
• NEW RELEASE! June 10, 2019. "CELESTIAL DANCE" for 5 B-flat Trumpets is a short fanfare (2'40") commissioned by Bach Artists Japan, Takumi Trumpet Ensemble. CLICK HERE FOR PRODUCT PAGE!
• Blackbinder implementation begins! Blackbinder versions of Concerto, Concerto for Two Trumpets and Passion Dance are now included with your hard-copy purchases of those pieces. Blackbinder is the most advanced automatic-scrolling sheet music app on the planet. Download it for free at the Apple App Store today and try it out.
• Congratulations to the Greater Dallas Youth Trumpet Ensemble for winning the inaugural 2019 NTC Pre-College Trumpet Ensemble Division with a great performance of "Cityscapes". Check it out on YouTube: https://youtu.be/oJCnZB0crpo
• Just wanted to let you all know that I'm currently working on a bunch of new pieces! I just completed a new trumpet quintet for "Takumi" trumpet ensemble from Japan entitled "Celestial Dance". That piece will be premiered and released in May 2019. I've also composed a 14 minute work for Stuttgart City Brass entitled "Ancient City" which will be released in January 2020. And, as usual, FJH Publishing will be releasing a new concert band work as well. Stay tuned for more updates coming…
• The trumpet ensemble from the University of Music Würzburg (Germany) has recorded "Infinite Ascent". Check it out on YouTube: https://youtu.be/S22ipwqYr8M
Concerto for Two Trumpets - String Orch. Version
00090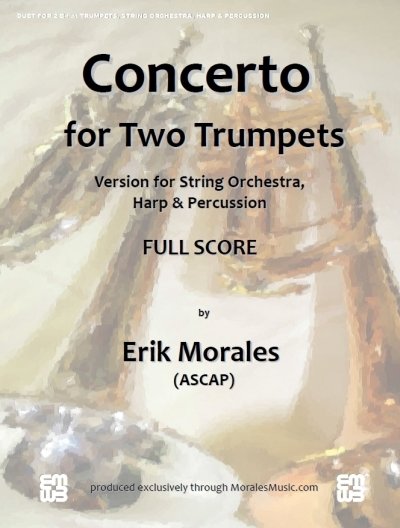 VIEW SAMPLE SCORE (sample score will open in new browser tab)
The following samples were performed by Richard Stoelzel & Slawomir Cichor with the Polish Camerata.
This version for strings, harp and percussion comes as a 9"x12" spine stapled score. Parts are supplied on a CD-rom disc. Two 9"x12" trumpet solo parts are also included.
The original "Concerto for Two Trumpets" was composed in 2012-2013 and was originally scored for wind symphony instrumentation. That version was soon followed by a piano reduced version and, two years later, this current version for string orchestra, harp and percussion. No changes were made to the form of the original work. However, because of the drastic change of instrumentation, this new version presents differently in terms of tone colors and ensemble sound. This three movement work can be best described as a celebration of all that is great about the trumpet. In keeping with my philosophy of the importance of melody each movement is carefully crafted to entertain and engage the listener. The piece was designed specifically for the B-flat Trumpet. A few requests were made for transposed C Trumpet parts but the piece plays far easier on the B-flat instrument. Careful consideration is given to how the musical passages are fingered. Plus, the slightly darker quality of the B-flat trumpet is desired. My goal was to have the two soloists as "equals". So there are several passages where both soloists are playing in unison. This fortifies the melodic passages with a deep, full sounding chorus effect. Each soloist has an opportunity to shine. You should not attempt to play the first movement faster than the tempo marked (quarter note=126 beats per minute) as sixteenth notes become increasingly difficult to play using a clean single-tongue technique. All three movements are designed to run together with no "break time" in between. The total duration is approximately 17 minutes (depending, of course, on chosen tempos).
ISMN # 979-0-800118-09-8
Grade Level - Difficult
Duration - ~17.5 min.
Options:
Complete Set (0) Score Only (-19.95) Solo Trumpet Parts Only (-39.95) Solo Trumpet 1 Part Only (-44.95) Solo Trumpet 2 Part Only (-44.95) String PDF Parts CD Only (-10) Library Bound Version (6)
Newest works: