Welcome to the official website of composer Erik Morales!
• NEW RELEASE! January 17, 2020, "THROUGH SPACE AND TIME" for 4 B-flat Trumpets and 4 Flugelhorns (~5 minutes) commissioned by the students of trumpet master Hiroaki Hayasaka from Kyoto, Japan. CLICK HERE FOR PRODUCT PAGE!
• NEW RELEASE! June 10, 2019. "CELESTIAL DANCE" for 5 B-flat Trumpets is a short fanfare (2'40") commissioned by Bach Artists Japan, Takumi Trumpet Ensemble. CLICK HERE FOR PRODUCT PAGE!
• Blackbinder implementation begins! Blackbinder versions of Concerto, Concerto for Two Trumpets and Passion Dance are now included with your hard-copy purchases of those pieces. Blackbinder is the most advanced automatic-scrolling sheet music app on the planet. Download it for free at the Apple App Store today and try it out.
• Congratulations to the Greater Dallas Youth Trumpet Ensemble for winning the inaugural 2019 NTC Pre-College Trumpet Ensemble Division with a great performance of "Cityscapes". Check it out on YouTube: https://youtu.be/oJCnZB0crpo
• Just wanted to let you all know that I'm currently working on a bunch of new pieces! I just completed a new trumpet quintet for "Takumi" trumpet ensemble from Japan entitled "Celestial Dance". That piece will be premiered and released in May 2019. I've also composed a 14 minute work for Stuttgart City Brass entitled "Ancient City" which will be released in January 2020. And, as usual, FJH Publishing will be releasing a new concert band work as well. Stay tuned for more updates coming…
• The trumpet ensemble from the University of Music Würzburg (Germany) has recorded "Infinite Ascent". Check it out on YouTube: https://youtu.be/S22ipwqYr8M
Crystal Spheres
00014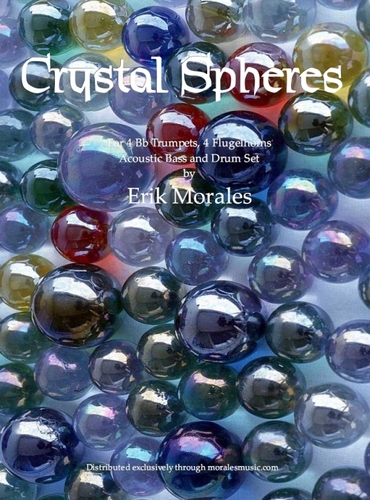 VIEW SAMPLE SCORE (sample score will open in new browser tab)
Crystal Spheres can be best described as an exuberant piece of music that employs elements of jazz, funk, rock and Latin. Even with those styles at play, one must not assume the work to be light and easy. On the contrary, it has moments of excitement and beauty that are challenging for the players and engaging for the listening audience. This is Mr. Morales's first trumpet ensemble composed in 1992 and newly revised for this publication.

Instrumentation 4 B flat Trumpets, 4 Flugelhorns, Acoustic Bass and Drum Set.
ISMN # 979-0-800118-12-8

Duration: 6 minutes, 20 seconds
Options:
Complete Set (0) Score Only (-12) 1st Trumpet Part Only (-17.95) 2nd Trumpet Part Only (-17.95) 3rd Trumpet Part Only (-17.95) 4th Trumpet Part Only (-17.95) 1st Flugelhorn Part Only (-17.95) 2nd Flugelhorn Part Only (-17.95) 3rd Flugelhorn Part Only (-17.95) 4th Flugelhorn Part Only (-17.95) Bass Guitar Part Only (-17.95) Drum Set Part Only (-17.95) Library Bound Version (6)
Newest works: