SHOP
Concerto for Two Trumpets - Piano Accompaniment
00042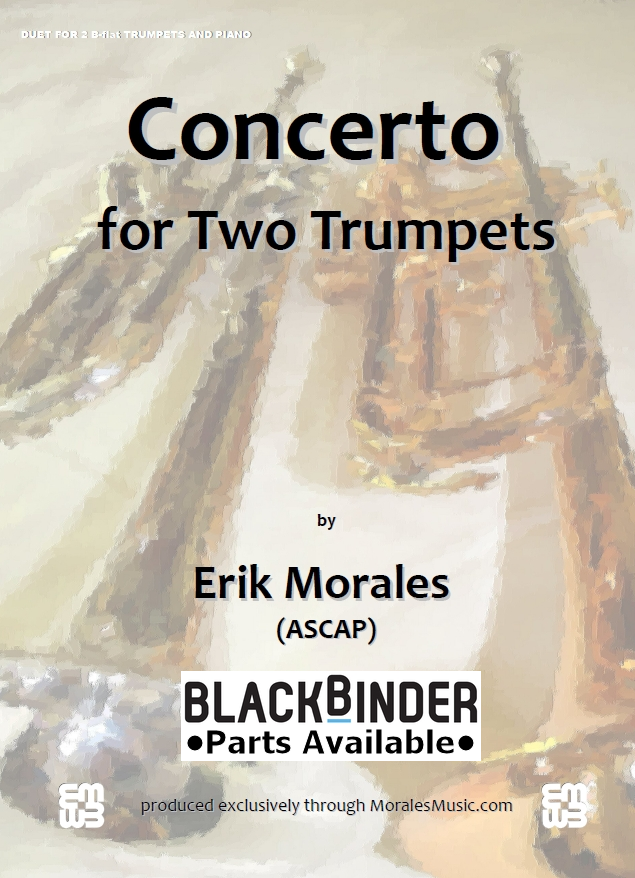 VIEW SAMPLE SCORE (sample score will open in new browser tab) Sound samples below...
**This version includes a Piano accompaniment reduction of the band score and two solo parts**
You will also receive a Blackbinder version of the Solo Trumpet Parts with the purchase of a hard copy. Blackbinder is the most advanced sheet music reading app for the iPad. Download it for free in the Apple App Store and experience what it's like to not turn pages anymore!
This three movement work can be best described as a celebration of all that is great about the trumpet. In keeping with my philosophy of the importance of melody each movement is carefully crafted to entertain and engage the listener. The piece was designed specifically for two B-flat trumpets. My goal was to have the two soloists as "equals". So there are several passages where both soloists are playing in unison. This fortifies the melodic passages with a deep, full sounding chorus effect. Each soloist has an opportunity to shine. All three movements are designed to run together with little to no "break time" in between. The total duration is approximately 17 minutes (depending on chosen tempos). This work was made possible through a consortium organized by Professor James Ackley of the University of South Carolina. The piece was debuted at the 2013 International Trumpet Guild Conference in Grand Rapids, Michigan.
ISMN # 979-0-800118-08-1

Grade Level - Difficult
Duration - ~17 min.

Options:
Complete Set (0) Piano Part Only (-6) Solo Trumpet Parts Only (-9) Solo Trumpet 1 Only (-18) Solo Trumpet 2 Only (-18) Library Bound Version (6) Blackbinder Trumpet Parts Only (-9)