SHOP
Concerto for Trumpet in C and Piano
00009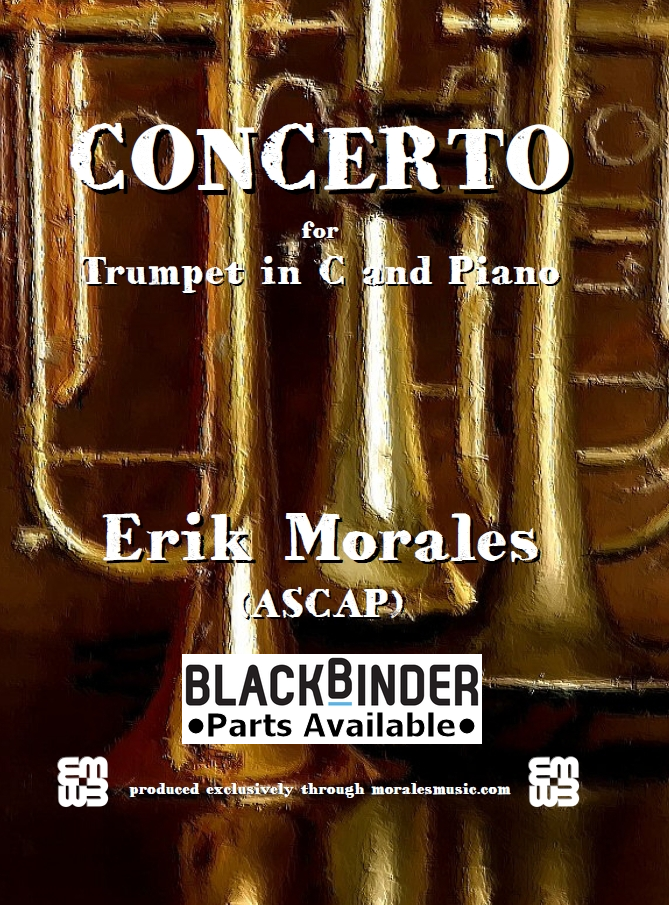 VIEW SAMPLE SCORE
(sample score will open in new browser tab)
You will also receive a Blackbinder version of the Solo Trumpet Part with the purchase of a hard copy. Blackbinder is the most advanced sheet music reading app for the iPad. Download it for free in the Apple App Store and experience what it's like to not turn pages anymore!

This concerto is a three movement work that was conceived as a showcase for both instruments, trumpet in C and piano. At the time I was composing this work I was determined to have the piano play an equal role to the trumpet and not take the accompaniment role which is all too prevalent in the current repertoire. The work is an eclectic mix of rhythmic and stylistic elements which have played a major role in my development as a composer. This concerto was written for and premiered by virtuoso trumpeter, Richard Stoelzel. For more information and recordings by Richard Stoelzel please visit his website at richardstoelzel.com
ISMN # 979-0-800118-05-0

Grade Level - Very Difficult
Duration - ~13 min.
Check out Jose Chafer, Trumpet and Adolfo Garcia, Piano in a 2014 performance of the 1st Movement in Spain:
Options:
Complete Set (0) Piano Part Only (-4.95) Solo Trumpet Part Only (-13.95) Library Bound Version (6) Blackbinder Trumpet Part Only (-13.95)