SHOP
Rhapsody
00053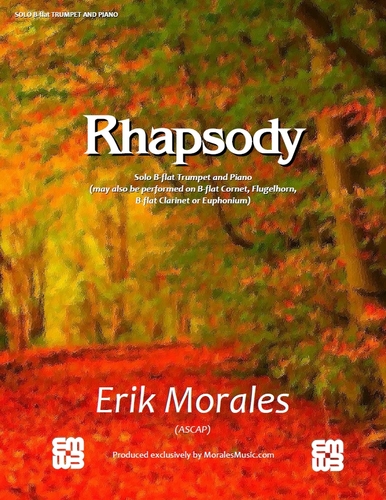 VIEW SAMPLE SCORE
(sample score will open in new browser tab) Sound samples below...
This work was composed at the request of pianist Rebecca Wilt for her husband, trumpeter Mark Clodfelter, in celebration of their fifth anniversary. She asked me to create a piece that would incorporate beautiful melodies, much like the second movement of my first trumpet concerto. I decided that the melodic themes should be rhythmically simple yet be rich and deep in its' orchestration. The resulting work which I entitled "Rhapsody" provides both players with sweeping, dramatic musical passages. This piece may also be performed on B-flat Cornet, Flugelhorn, B-flat Clarinet or Euphonium with great success. A bass clef part is provided for Euphonium on the reverse of the B-flat solo part.
ISMN # 979-0-800118-22-7

Grade Level - Moderate to Difficult
Duration - ~5.5 min.

Options:
Complete Set (0) Piano part only (-3) Trumpet/Euphonium part only (-7) Library Bound Version (6)